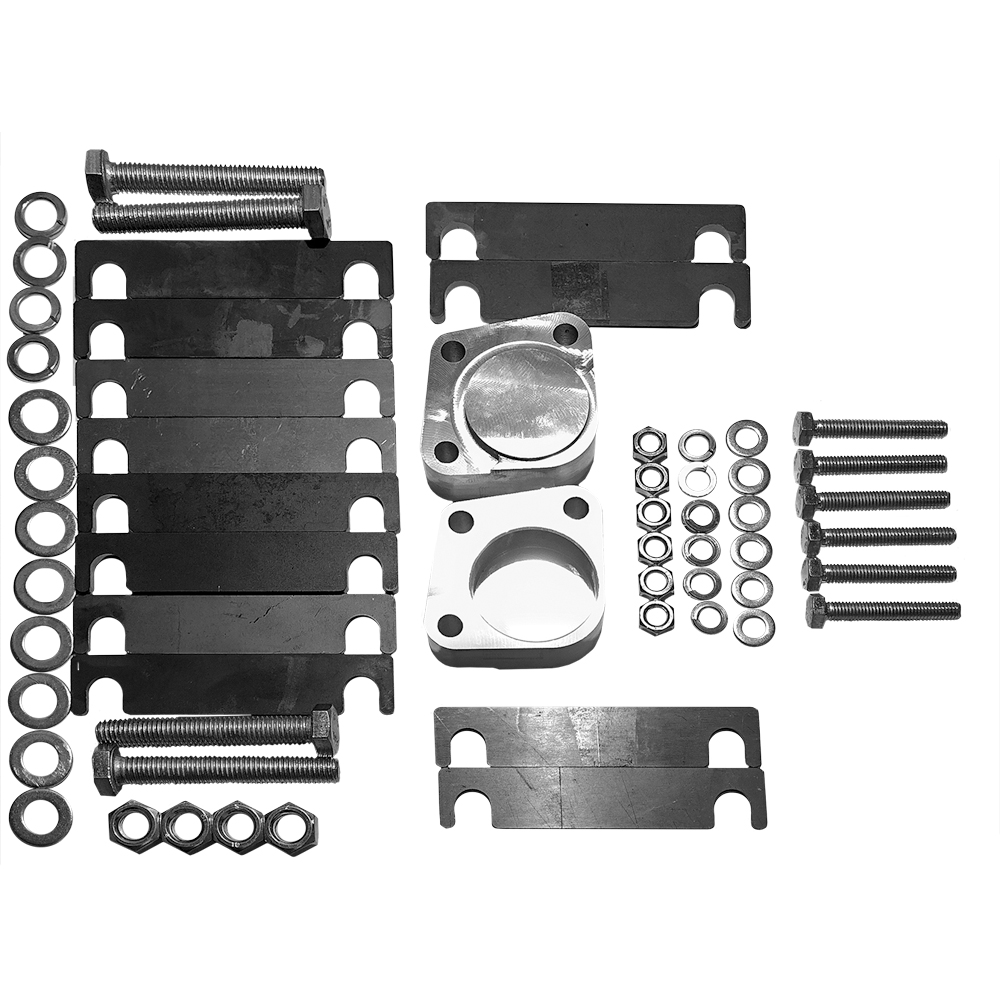 Set include 2 spacers + 6 bolts + 6 nuts + 12 washers. The total height of the spacer: 30 mm, working height: 25 mm.
The price includes a set: 2 spacers + 6 bolts + 6 nuts + 12 washers. The total height of the spacer: 30 mm, working height: 25 mm
The spacer is made of PA6 aluminum in a version without a cover layer. The spacers are mounted in the mounting holes, the set includes 2 spacers (one on each side), M8 bolts with nut with a hardness of 10.9
Wheel angle adjustment plates are made of steel in a design without top layer. The set contains: 4 adjustment plates 5 mm, 4 adjustment plates 3 mm, 4 adjustment plates 2 mm, 4 bolts M12x80 – hardness class 10.9, 4 nuts M12 – hardness class 10, 8 washers, 4 spring washers (not available if self-locking Nuts are used)
All elements we present on powered by Beskidzkie4x4 are constantly tested in our vehicles under difficult or extreme off-road conditions
We are an expert in our industry. We guarantee the best quality and professionalism. We ensure better driving comfort
We ship worldwide. Email us for price and shipping to your country: info@truh.pl
If you are not sure whether the product fits your car, please contact us. We are happy to help.
In our other listing you will find other kits for other models.
Our kits – control arm spacers – significantly improve driving comfort and the range of suspension work after lifting.
Control arm spacers increase the distance between other parts of the suspension – this results in a better suspension effect.
This makes the suspension soft and comfortable.
Many companies and individuals have trusted us. Professionalism and highest quality are guaranteed with us.
Spacers are part of the tuning of an off-road vehicle. When assembling the item, the buyer declares that they do this at their own risk and will not make any future claims against the manufacturer and/or distributor of the product.
When purchasing, the buyer confirms that they have the necessary knowledge to assess the strength of the elements required for proper functioning of the spacers in the selected application.

Fit to:
HYUNDAI TERRACAN (HP) 2.5 TD 101KM 2001-2006
HYUNDAI TERRACAN (HP) 2.9 CRDi 150KM 2001-2003
HYUNDAI TERRACAN (HP) 2.9 CRDi 4WD 150KM 2001-2006
HYUNDAI TERRACAN (HP) 2.9 CRDi 4WD 163KM 2003-2006
HYUNDAI TERRACAN (HP) 3.5 i V6 4WD 194KM 2001-2006
HYUNDAI TERRACAN (HP) 3.5 i V6 4WD 200KM 2001-2006