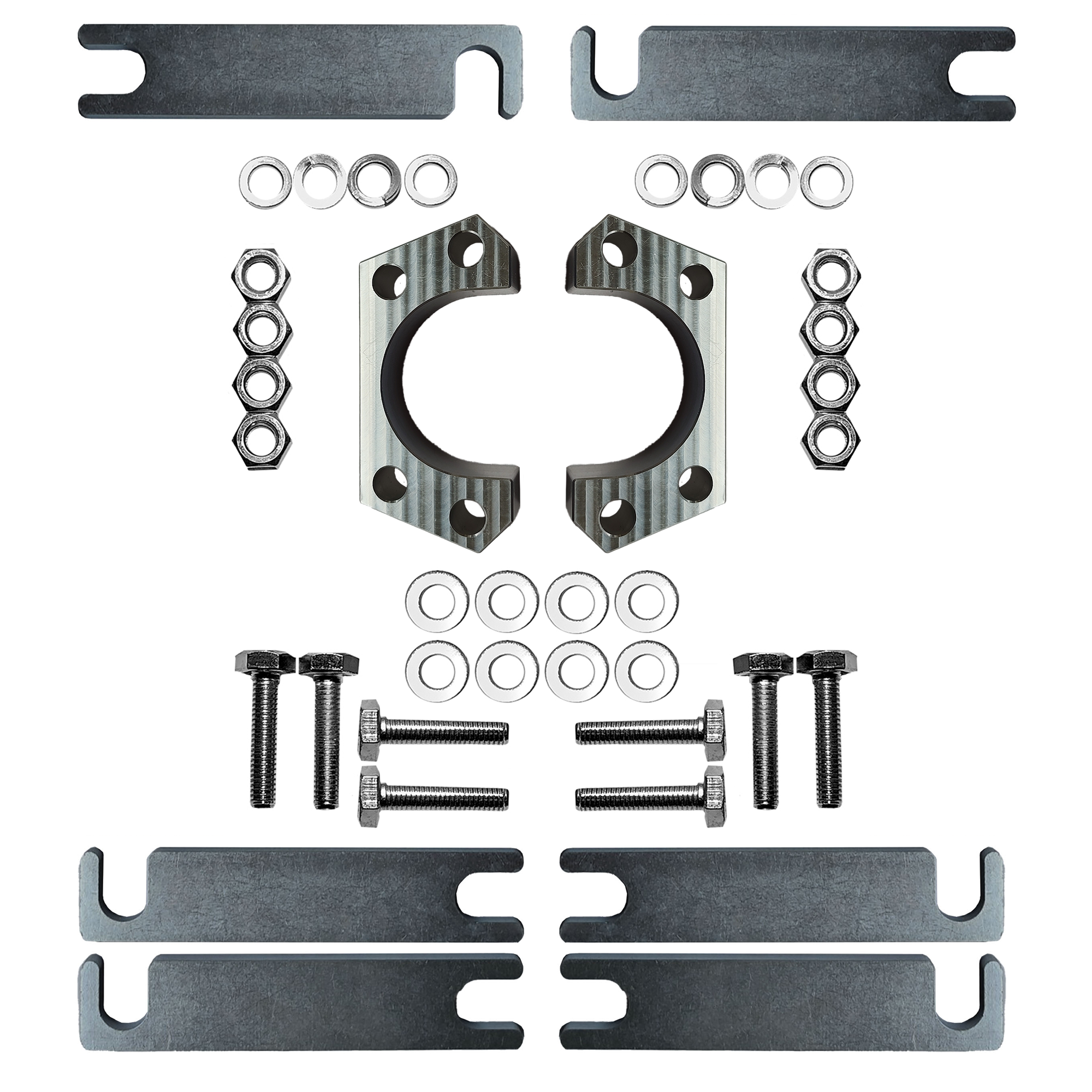 Recommended upper control arm spacer for Ssangyong Korando, Musso, Daewoo Korando, Musso designed for suspension with lift with camber correction shims. The spacer is mounted with 4 bolts.
Total height of the spacer 20 mm. Working height of 20 mm.
The price is for a set of:
2 distances
bolts
nuts
washers
set of with camber correction shims
The distance is made of aluminum in the uncovered version.
The spacer is mounted in the serial holes, the set includes 2 spacers (one for each side), bolts and M8 nuts with a hardness of 10,9.
All the components we present as part of the series powered by Beskidzkie4x4 have been and are continuously tested in our vehicles in difficult or extreme off-road conditions.
See how we do it: https://youtu.be/gE19QCMBK0g
Note: The spacer is a tuning item, intended for off-highway use. By installing it, the buyer declares that he/she does so, solely at his/her own risk and will not make any future claims against the manufacturer and/or distributor of the product.
The buyer, by making the purchase, declares that he/she has all the knowledge necessary to estimate the strength of the components necessary for the correct functioning of the spacers in the selected application.
Daewoo
DAEWOO KORANDO (KJ) 2.3 143KM 1999->
DAEWOO KORANDO (KJ) 2.9 D 98KM 1999->
DAEWOO KORANDO (KJ) 2.9 TD 120KM 1999->
DAEWOO KORANDO (KJ) 3.2 4×4 212KM 1999->
DAEWOO KORANDO Cabrio (KJ) 2.0 16V 128KM 1999->
DAEWOO KORANDO Cabrio (KJ) 2.3 143KM 1999->
DAEWOO KORANDO Cabrio (KJ) 2.9 D 98KM 1999->
DAEWOO KORANDO Cabrio (KJ) 2.9 TD 120KM 1999->
DAEWOO MUSSO (FJ) 2.2 TD 101KM 1999->
DAEWOO MUSSO (FJ) 2.3 140KM 1999->
DAEWOO MUSSO (FJ) 2.9 D 4×4 99KM 1999-1999
DAEWOO MUSSO (FJ) 2.9 TD 4×4 120KM 1999->
DAEWOO MUSSO (FJ) 3.2 4×4 220KM 1999->
SsangYong
SSANGYONG KORANDO (CK) 2.0 150KM 2012->
SSANGYONG KORANDO (CK) 2.0 4WD 150KM 2012->
SSANGYONG KORANDO (CK) 2.0 e-XDi 150KM 2012->
SSANGYONG KORANDO (CK) 2.0 e-XDi 175KM 2010->
SSANGYONG KORANDO (CK) 2.0 e-XDi 4WD 150KM 2012->
SSANGYONG KORANDO (CK) 2.0 e-XDi 4WD 175KM 2010->
SSANGYONG KORANDO (CK) 2.2 Xdi 178KM 2015->
SSANGYONG KORANDO (CK) 2.2 Xdi 4WD 178KM 2015->
SSANGYONG KORANDO (K5, K9) 2.2 D 68KM 1988-1996
SSANGYONG KORANDO (K5, K9) 2.5 D 79KM 1993-1997
SSANGYONG KORANDO (KJ) 2.0 128KM 1997-2002
SSANGYONG KORANDO (KJ) 2.3 140KM 1997-2000
SSANGYONG KORANDO (KJ) 2.3 143KM 1999-2006
SSANGYONG KORANDO (KJ) 2.3 150KM 2002-2006
SSANGYONG KORANDO (KJ) 2.3 D (KJ) 79KM 1996-1998
SSANGYONG KORANDO (KJ) 2.3 TDiC 4×4 101KM 1998-2006
SSANGYONG KORANDO (KJ) 2.9 D (KJ) 98KM 1996-2000
SSANGYONG KORANDO (KJ) 2.9 D 99KM 1997-2000
SSANGYONG KORANDO (KJ) 2.9 TD 120KM 1998-2006
SSANGYONG KORANDO (KJ) 3.2 (KJ) 209KM 1996-2002
SSANGYONG KORANDO (KJ) 3.2 212KM 1999-2000
SSANGYONG KORANDO (KJ) 3.2 220KM 1997-2006
SSANGYONG KORANDO Cabrio (KJ) 2.3 140KM 1997-2000
SSANGYONG KORANDO Cabrio (KJ) 2.3 143KM 1999-2006
SSANGYONG KORANDO Cabrio (KJ) 2.3 150KM 2002-2006
SSANGYONG KORANDO Cabrio (KJ) 2.9 D 98KM 1997-2000
SSANGYONG KORANDO Cabrio (KJ) 2.9 TD 120KM 1998-2000
SSANGYONG KORANDO Cabrio (KJ) 3.2 212KM 1999-2002
SSANGYONG KORANDO Cabrio (KJ) 3.2 220KM 1997-2006
SSANGYONG MUSSO (FJ) 2.0 126KM 1996-2005
SSANGYONG MUSSO (FJ) 2.3 140KM 1996-2002
SSANGYONG MUSSO (FJ) 2.3 150KM 2003-2006
SSANGYONG MUSSO (FJ) 2.3 D 79KM 1993-1997
SSANGYONG MUSSO (FJ) 2.3 D 80KM 1995-1999
SSANGYONG MUSSO (FJ) 2.9 D 99KM 1996-1998
SSANGYONG MUSSO (FJ) 2.9 TD 120KM 1998-2007
SSANGYONG MUSSO (FJ) 3.2 220KM 1996-2004
SSANGYONG MUSSO SPORTS 2.9 D 4×4 120KM 2004->