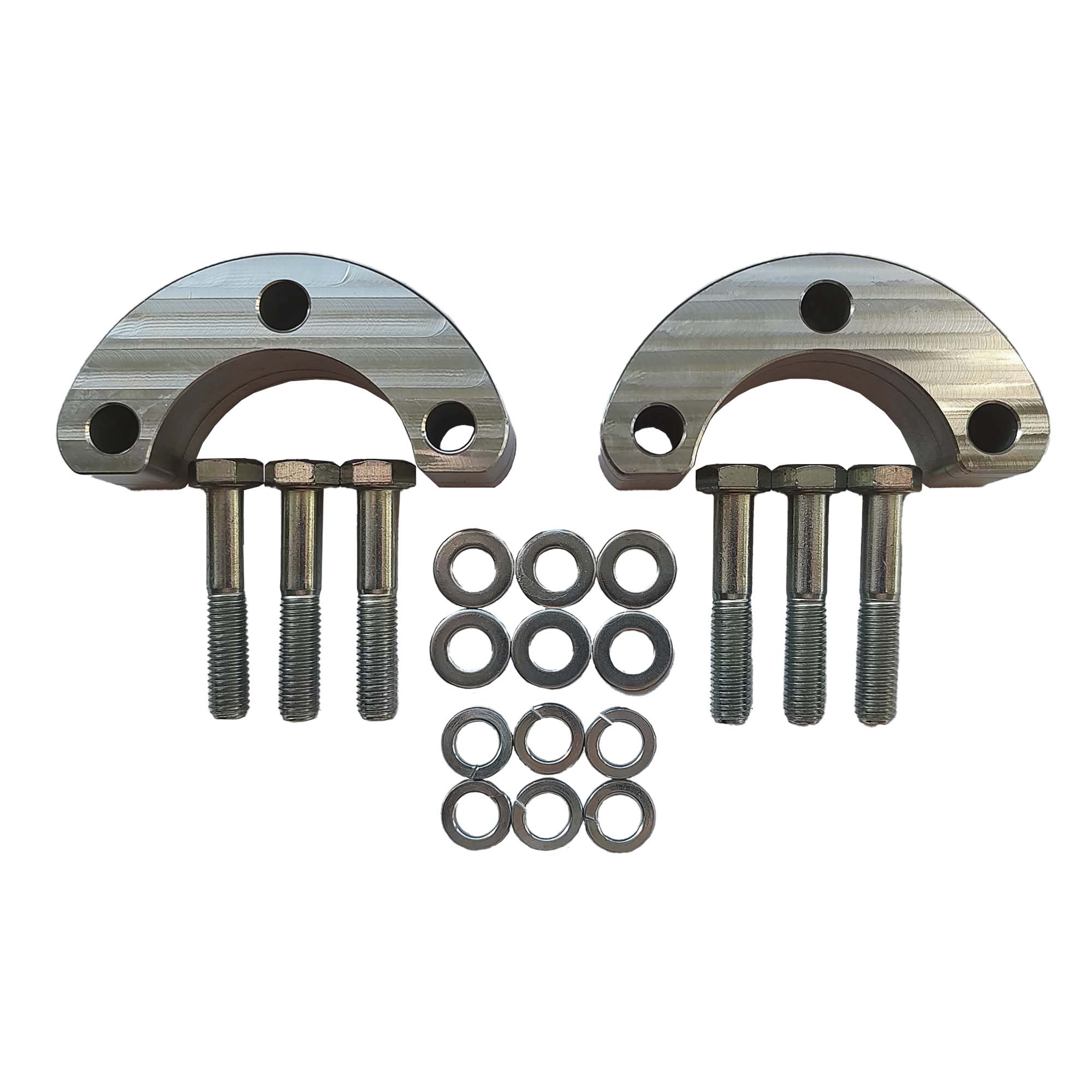 We recommend an upper control arm spacer for Ford Ranger and Mazda BT-50 designed for suspension with lift.
The working height of the spacer is 15mm.
The set includes:
2 spacers
bolts (10.9)
washers

Depending on availability, it is possible to purchase distances with bolts.
The distance is made of PA6 aluminum in the uncovered version.
The distance mounts in the serial holes, the set includes 2 distances (one for each side), bolts and M8 nuts with a hardness of 10.9.
Fits to:
FORD RANGER (ER, EQ, R_) 2.5 D 4×4 78KM 1999-2002
FORD RANGER (ER, EQ, R_) 2.5 D 78KM 1999-2002
FORD RANGER (ER, EQ, R_) 2.5 TD 4×4 109KM 1999-2006
FORD RANGER (ER, EQ, R_) 2.5 TD 84KM 2002-2006
FORD RANGER (ET) 2.5 TDCi 4×4 143hp 2006-2012
FORD RANGER (ET) 2.5 TDdi 143 hp 2006-2012
MAZDA B-SERIES (UF) 2.5 D 4WD (UFY0) 86KM 1996-1999
MAZDA B-SERIES (UF) 2.5 D 86KM 1996-1999
MAZDA B-SERIE (UF) 2.5 TD (UFY0) 87KM 1996-1999
MAZDA B-SERIES (UF) 2.6 12V 4WD (UFY0) 122KM 1990-1999
MAZDA B-SERIE (UN) 2.2 8V 4WD 92KM 1999-2006
MAZDA B-SERIE (UN) 2.2 92KM 1999-2002
MAZDA B-SERIE (UN) 2.5 D 4WD 78KM 1999-2006
MAZDA B-SERIE (UN) 2.5 D 4WD 84KM 2002-2006
MAZDA B-SERIE (UN) 2.5 D 78KM 1999-2006
MAZDA B-SERIE (UN) 2.5 D 84KM 2002-2006
MAZDA B-SERIES (UN) 2.5 TD 4WD 109KM 1999-2006
MAZDA B-SERIE Platform / chassis (UF) 2.5 TD 87KM 1996-1999
MAZDA BT-50 pick-up (CD, UN) 2.5 MRZ-CD (UNY0W3) 143HP 2006-2013
MAZDA BT-50 pick-up (CD, UN) 2.5 MRZ-CD 4×4 (UNY0W3) 143HP 2006-2015