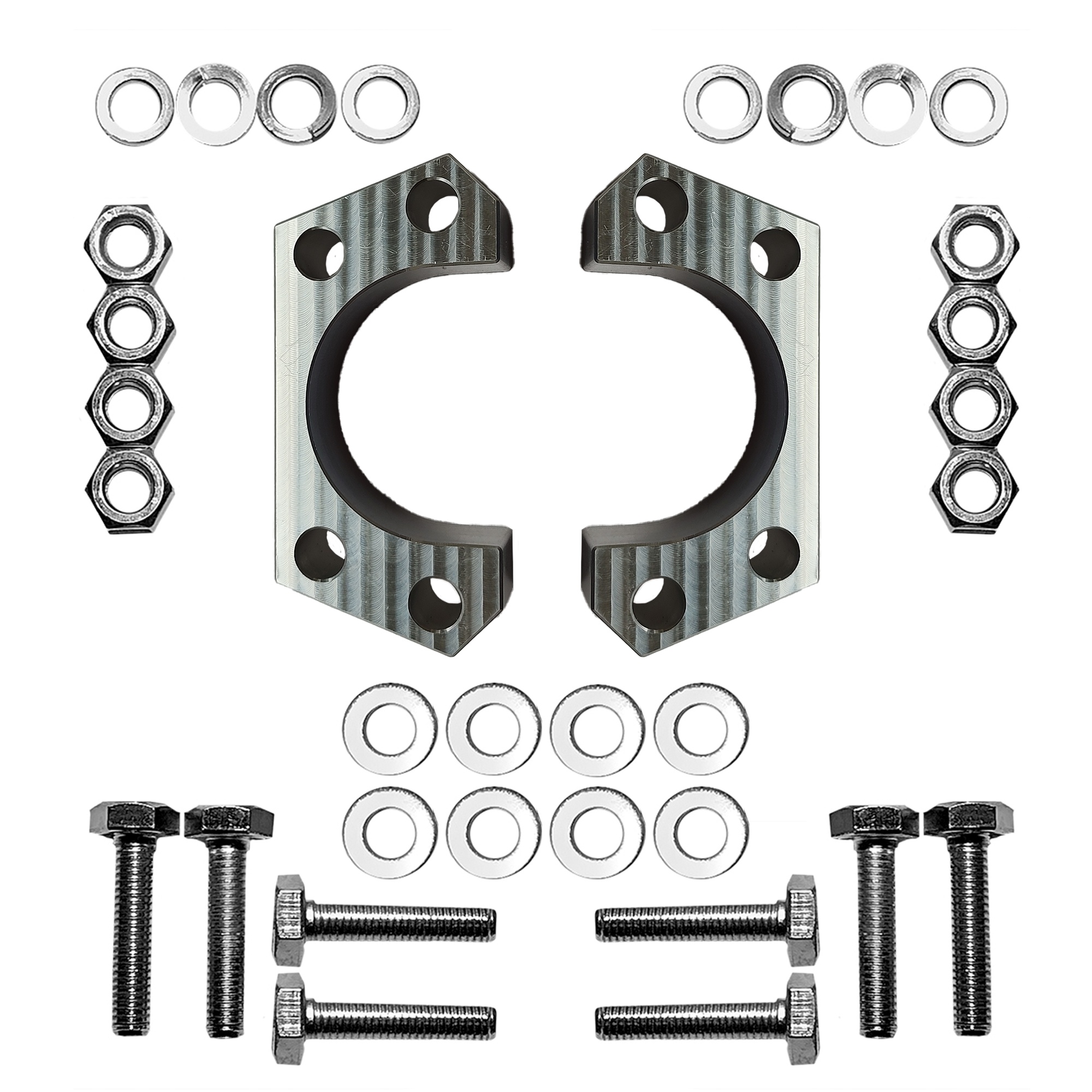 Recommended upper control arm spacer for Isuzu Trooper I, Campo, D-MAX, Opel Campo, Frontera, Monterey designed for suspension with lift. The spacer is mounted with 4 bolts.
Total height of the spacer 20 mm. Working height of 20 mm.
The price is for a set of:
2 distances
bolts
nuts
washers
The distance is made of aluminum in the uncovered version.
The spacer is mounted in the serial holes, the set includes 2 spacers (one for each side), bolts and M8 nuts with a hardness of 10,9.
All the components we present as part of the series powered by Beskidzkie4x4 have been and are continuously tested in our vehicles in difficult or extreme off-road conditions.
See how we do it: https://youtu.be/gE19QCMBK0g
Note: The spacer is a tuning item, intended for off-highway use. By installing it, the buyer declares that he/she does so, solely at his/her own risk and will not make any future claims against the manufacturer and/or distributor of the product.
The buyer, by making the purchase, declares that he/she has all the knowledge necessary to estimate the strength of the components necessary for the correct functioning of the spacers in the selected application.
Isuzu
ISUZU TROOPER I (UBS) 2.8 TD (UBS55) 106KM 1988-1991
ISUZU TROOPER I (UBS) 2.8 TD (UBS55) 97KM 1987-1991
ISUZU TROOPER I (UBS) 2.2 TD (UBS52) 72KM 1984-1991
ISUZU TROOPER I (UBS) 2.3 (UBS16) 90KM 1985-1991
ISUZU TROOPER I (UBS) 2.6 i (UBS17) 116KM 1987-1991
ISUZU CAMPO (KB) 2.0 (KB28) 79KM 1985-1988
ISUZU CAMPO (KB) 2.0 4WD (KB48) 79KM 1985-1988
ISUZU CAMPO (KB) 2.2 (TFS) 90KM 1989-1990
ISUZU CAMPO (KB) 2.2 D (KBD27) 53KM 1986-1990
ISUZU CAMPO (KB) 2.5 D (KB27) 75KM 1983-1990
ISUZU D-MAX I (TFR, TFS) 2.5 DiTD (TFR86_, TFR54_) 101KM 2002-2012
ISUZU KB 2.2 D 4WD 53KM 1983-1988
Opel
FRONTERA A (U92)
2.2 i (54MWL4) (X 22 XE) 2198ccm 136KM/100kW 1995/03-1998/10
2.3 TD (5JMWL4) (23 DTR) 2260ccm 100KM/74kW 1992/03-1998/10
2.4 i (53MWL4) (C 24 NE) 2410ccm 125KM/92kW 1992/03-1998/10
2.8 TD (5BMWL4, 5BSUD2) (28TD) 2771ccm 113KM/83kW 1995/03-1998/08
FRONTERA A Sport (U92)
2.0 i (52SUD2, 55SUD2) (C 20 NE X 20 SE) 1998ccm 115KM/85kW 1992/03-1998/10
2.8 TD (5BSUD2) (28TD) 2771ccm 113KM/83kW 1995/03-1996/08
FRONTERA B (U99)
2.2 DTI (6B_66, 6B_76) (Y 22 DTH) 2171ccm 120KM/88kW 2002/09-2004/07
2.2 DTI (6B_ZC, 6B_VF, 6B_66, 6B_76) (X 22 DTH Y 22 DTH) 2171ccm 116KM/85kW 1998/09-2003/12
2.2 i (6B_ZC, 6B_VF, 6B_66, 6B_76) (X 22 SE Y 22 SE) 2198ccm 136KM/100kW 1998/10-2004/07
3.2 i (6B1VF, 6B1_6) (6VD1 (DOHC) Y 32 NE) 3165ccm 205KM/151kW 1998/10-2004/07
MONTEREY A (M92)
3.1 TD (UBS69D, UBS69G) (4 JG2TC) 3059ccm 114KM/84kW 1991/09-1998/07
MONTEREY B (M98)
3.0 DTI (UBS73D, UBS73G) (4 JX1) 2999ccm 159KM/117kW 1998/07-1999/08
3.5 V6 24V (UBS26D, UBS26G) (6 VE1) 3494ccm 215KM/158kW 1998/07-1999/08