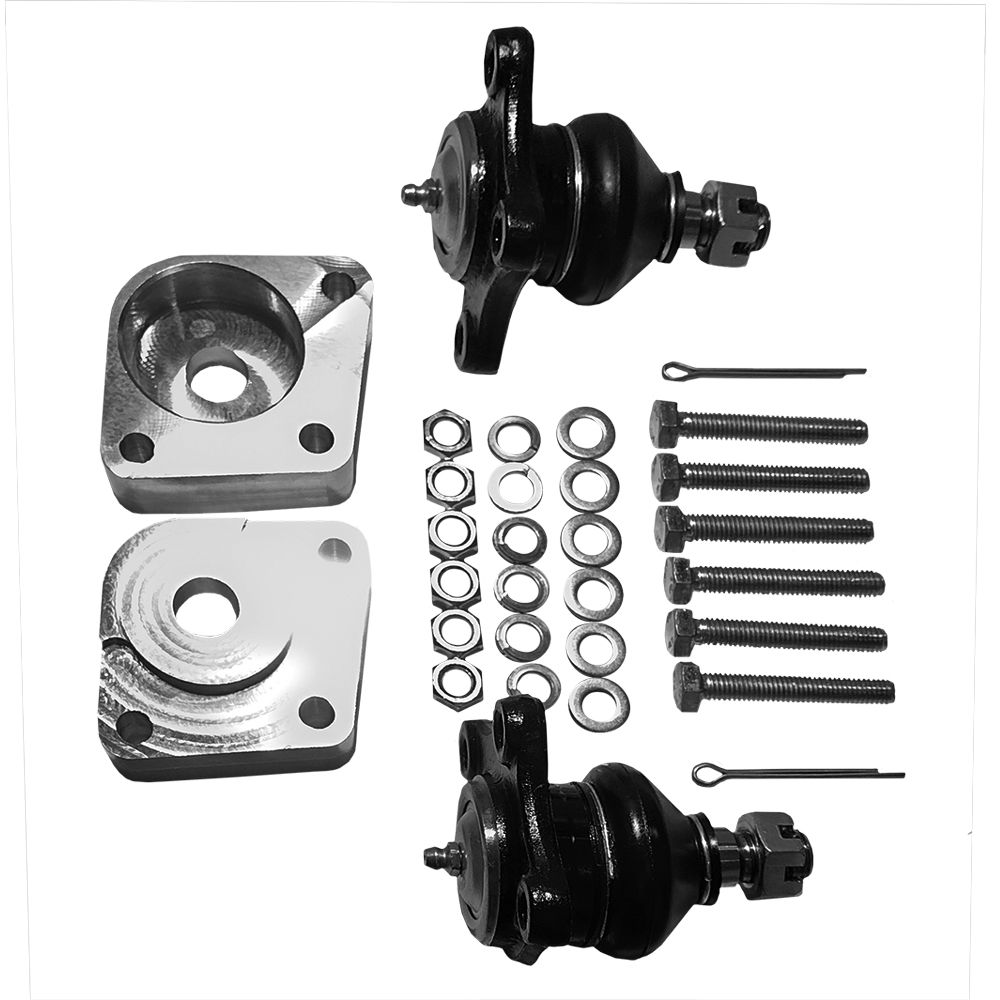 We recommend an upper control arm spacer for Mitsubishi Pajero II, Sport I and L200 designed for suspension with lift with ball joints.
Total height of the spacer 50mm. Working height 45mm.
The price is for a set: 2 distances + bolts + nuts + washers + ball joints.
The distance is made of PA6 aluminum in the uncovered version.
The distance is mounted in the serial holes, the set includes 2 distances (one for each side), bolts and M8 nuts with a hardness of 10.9.
All components that we present as part of the series powered by Beskidzkie4x4 have been and are continuously tested in our vehicles in difficult or extreme off-road conditions.
Please note: The spacer is a tuning item, intended for off-road use. By installing it, the buyer declares that he/she does so, solely at his/her own risk and will not make any future claims against the manufacturer and/or distributor of the product.
The buyer, by making the purchase, declares that he/she has all the knowledge necessary to estimate the strength of the components necessary for the correct functioning of the spacers in the selected application.

Fits for:
MITSUBISHI L200 (K7_T, K6_T) 2.4 4WD (K75T) 132KM 1996-2007
MITSUBISHI L200 (K7_T, K6_T) 2.5 TD 4WD (K74T) 115KM 2001-2007
MITSUBISHI L200 (K7_T, K6_T) 2.5 TD 4WD (K74T) 133KM 2001-2007
MITSUBISHI PAJERO II (V3_W, V2_W, V4_W) 2.4 (V21W, V21C) 112KM 1991-1999
MITSUBISHI PAJERO II (V3_W, V2_W, V4_W) 2.5 TD 4WD (V24C, V24W) 99KM 1990-1999
MITSUBISHI PAJERO II (V3_W, V2_W, V4_W) 2.5 TDiC (V44W, V24W) 99KM 1991-1999
MITSUBISHI PAJERO II (V3_W, V2_W, V4_W) 2.6 4WD 103KM 1991-1997
MITSUBISHI PAJERO II (V3_W, V2_W, V4_W) 2.8 D (V46W, V26W) 140KM 1993-1999
MITSUBISHI PAJERO II (V3_W, V2_W, V4_W) 2.8 TD (V46W, V26W) 125KM 1994-1999
MITSUBISHI PAJERO II (V3_W, V2_W, V4_W) 3.0 4WD 177KM 1997-2000
MITSUBISHI PAJERO II (V3_W, V2_W, V4_W) 3.0 V6 24V (V43W, V23W) 177KM 1997-1999
MITSUBISHI PAJERO II (V3_W, V2_W, V4_W) 3.0 V6 24V (V43W, V23W) 181KM 1994-1997
MITSUBISHI PAJERO II (V3_W, V2_W, V4_W) 3.0 V6 4WD (V23W, V43W, V23C) 150KM 1990-1995
MITSUBISHI PAJERO II (V3_W, V2_W, V4_W) 3.5 V6 24V (V25W, V45W) 208KM 1994-1999
MITSUBISHI PAJERO II (V3_W, V2_W, V4_W) 3.5 V6 24V (V45W, V25W) 194KM 1997-1999
MITSUBISHI PAJERO II Canvas Top (V2_W, V4_W) 2.5 TD 4WD (V24C, V24W) 99KM 1990-2000
MITSUBISHI PAJERO II Canvas Top (V2_W, V4_W) 3.0 V6 (V23W, v43W, V23C) 150KM 1990-1995
MITSUBISHI PAJERO II Canvas Top (V2_W, V4_W) 3.0 V6 24V (V23W, V23C) 181KM 1994-2000
MITSUBISHI PAJERO III Canvas Top (V6_W, V7_W) 2.5 TDi (V64W, V74W) 115KM 2001-2006
MITSUBISHI PAJERO III Canvas Top (V6_W, V7_W) 2.5 TDi (V64W, V74W) 99KM 2000-2006
MITSUBISHI PAJERO SPORT I (K7_, K9_) 2.5 TD (K94W) 133KM 2003->
MITSUBISHI PAJERO SPORT I (K7_, K9_) 2.5 TD (K94W) 99KM 1998->
MITSUBISHI PAJERO SPORT I (K7_, K9_) 2.5 TD (K94W, K74T) 115KM 2002->
MITSUBISHI PAJERO SPORT I (K7_, K9_) 3.0 V6 (K96W) 170KM 2000->
MITSUBISHI PAJERO SPORT I (K7_, K9_) 3.0 V6 (K96W) 177KM 1998-2000