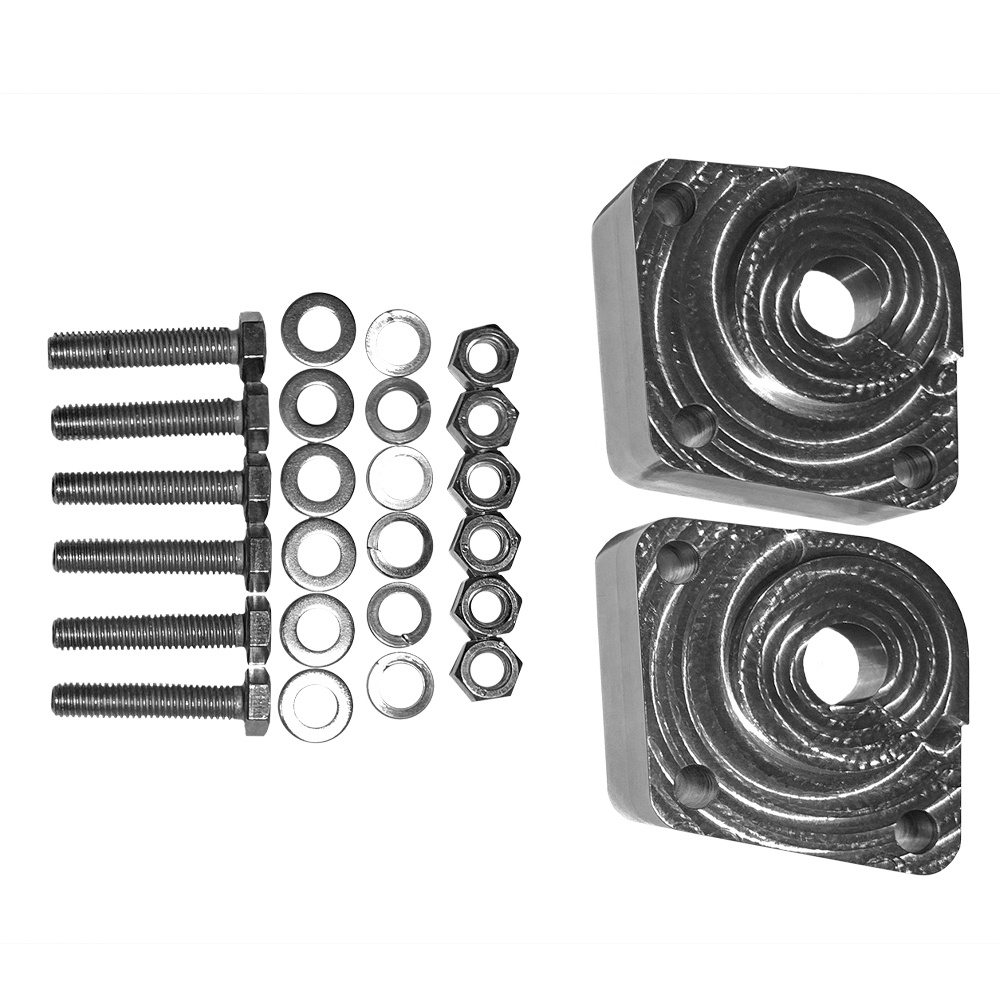 In price: 2 spacers + 6 bolts + 12 washers.
Total height of the spacer: 30 mm. Working height: 25 mm.
The spacer is made from steel without top layer.
Features & details
The spacers are mounted in the fixing holes, the set includes 2 spacers (one on each side), M8 bolts with a hardness of 10.9, nuts with a hardness of 10 and washers .
All elements that we present as part of the series powered by Beskidzkie4x4 were and are constantly tested in our vehicles in difficult or extreme off-road conditions.
Attention: Spacers are part of the tuning of an off-road vehicle. When fitting the item, the buyer declares that he/she does so solely at his/her own risk and will not make any future claims against the manufacturer and / or distributor of the product.
When purchasing, the buyer declares that he has the necessary knowledge to assess the strength of the elements required for the proper functioning of the spacers in the selected application.
We ship worldwide. Email us for price and shipping to your country: info@truh.pl
Fit to:
MITSUBISHI L200 / TRITON (KA_T, KB_T) 2.5 DI-D (KA4T) 128KM 2010-2015
MITSUBISHI L200 / TRITON (KA_T, KB_T) 2.5 DI-D (KA4T) 167KM 2007-2015
MITSUBISHI L200 / TRITON (KA_T, KB_T) 2.5 DI-D 16V 4WD 133KM 2007-2015
MITSUBISHI L200 / TRITON (KA_T, KB_T) 2.5 DI-D 4WD (KB4T) 136KM 2005-2015
MITSUBISHI L200 / TRITON (KA_T, KB_T) 2.5 DI-D 4WD (KB4T) 167KM 2007-2015
MITSUBISHI L200 / TRITON (KA_T, KB_T) 2.5 DI-D 4WD (KB4T) 178KM 2010-2015
MITSUBISHI L200 / TRITON (KA_T, KB_T) 2.5 DiD (KA4T) 136KM 2005-2015
MITSUBISHI PAJERO II (V3_W) 3.2 DiD 4WD 165KM 2000-2007
MITSUBISHI PAJERO III (V7_W, V6_W) 2.5 TDi 115KM 2001-2006
MITSUBISHI PAJERO III (V7_W, V6_W) 3.2 Di-D (V68W) 160KM 2000-2006
MITSUBISHI PAJERO III (V7_W, V6_W) 3.2 Di-D 165KM 2000-2006
MITSUBISHI PAJERO III (V7_W, V6_W) 3.5 203KM 2000-2007
MITSUBISHI PAJERO III Canvas Top (V6_W, V7_W) 2.5 TDi (V64W, V74W) 115KM 2001-2006
MITSUBISHI PAJERO III Canvas Top (V6_W, V7_W) 2.5 TDi (V64W, V74W) 99KM 2000-2006
MITSUBISHI PAJERO III Canvas Top (V6_W, V7_W) 3.2 DI-D (V68W, V78W) 160KM 2001-2006
MITSUBISHI PAJERO III Canvas Top (V6_W, V7_W) 3.2 DI-D (V68W, V78W) 165KM 2000-2006
MITSUBISHI PAJERO III Canvas Top (V6_W, V7_W) 3.5 V6 GDI (V65W, V75W) 203KM 2000-2006
MITSUBISHI PAJERO IV (V8_W, V9_W) 3.2 DI-D (V88W, V98W) 160KM 2007->
MITSUBISHI PAJERO IV (V8_W, V9_W) 3.2 DI-D (V88W, V98W) 170KM 2007->
MITSUBISHI PAJERO IV (V8_W, V9_W) 3.2 DI-D 4WD (V98W, V88W) 190KM 2007->
MITSUBISHI PAJERO IV (V8_W, V9_W) 3.2 DI-D 4WD (V98W, V88W) 200KM 2009->
MITSUBISHI PAJERO IV (V8_W, V9_W) 3.8 V6 (V87W, V97W) 250KM 2007->
MITSUBISHI PAJERO IV (V8_W, V9_W) 3.8 V6 248KM 2006->
MITSUBISHI PAJERO IV Van (V9_, V8_, V8_V) 3.2 DI-D 160KM 2006->
MITSUBISHI PAJERO IV Van (V9_, V8_, V8_V) 3.2 DI-D 4WD 190KM 2007->
MITSUBISHI PAJERO IV Van (V9_, V8_, V8_V) 3.2 TD 4WD 200KM 2010->