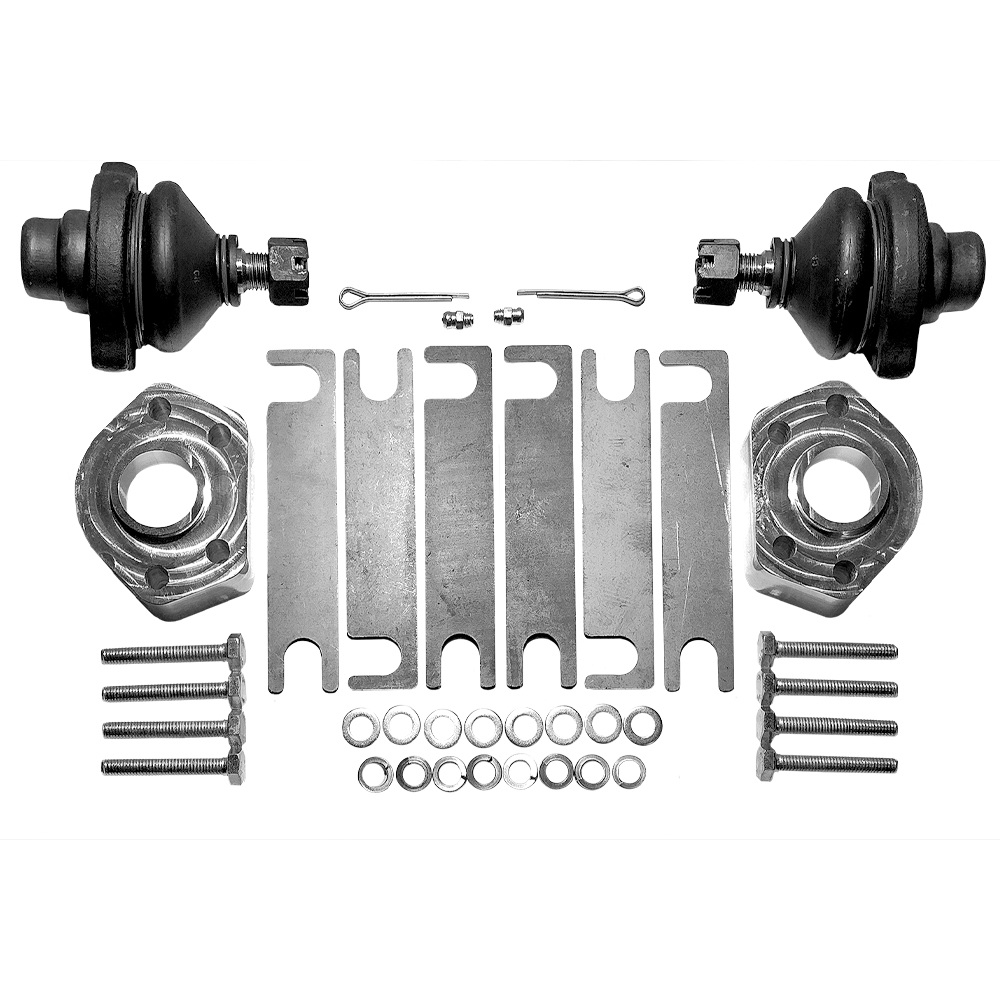 All elements presented in "powered by Beskidzkie4x4" serie are constantly tested in our vehicles under difficult or extreme off-road conditions

The price includes one set: 2 spacers + 8 bolts + 16 washers + 2 ball joints. The total height of the spacer: 30 mm, working height: 25 mm

The spacer is made of PA6 aluminum in a version without a cover layer. The spacers are mounted in the mounting holes, the set includes 2 spacers (one on each side), M8 bolts with nut with a hardness of 10.9

Wheel angle adjustment plates are made of steel in a design without top layer. The set contains: 2 adjustment plates 5 mm, 2 adjustment plates 3 mm, 2 adjustment plates 2 mm

We are an expert in our industry. We guarantee the best quality and professionalism.

Our set ensure better driving comfort.
We ship worldwide. Email us for price and shipping to your country: info@truh.pl
Spacers are part of the tuning of an off-road vehicle. When assembling the item, the buyer declares that they do this at their own risk and will not make any future claims against the manufacturer and/or distributor of the product.
When purchasing, the buyer confirms that they have the necessary knowledge to assess the strength of the elements required for proper functioning of the spacers in the selected application.
Fit to:
NISSAN PICK UP (D21) 2.0 90KM 1988-1997
NISSAN PICK UP (D21) 2.4 4WD 101KM 1986-1992
NISSAN PICK UP (D21) 2.4 i 12V 124KM 1992-1998
NISSAN PICK UP (D21) 2.4 i 12V 4WD 126KM 1992-1998
NISSAN PICK UP (D21) 2.5 D 4WD 75KM 1986-1991
NISSAN PICK UP (D21) 2.5 D 4WD 80KM 1987-1998
NISSAN PICK UP (D21) 2.5 D 4WD 83KM 1996-1998
NISSAN PICK UP (D21) 2.5 D 75KM 1987-1998
NISSAN PICK UP (D21) 2.5 D 80KM 1994-1996
NISSAN PICK UP (D21) 2.5 D 83KM 1992-1998
NISSAN PICK UP (D22) 2.5 D 4WD 83KM 1998-2005
NISSAN TERRANO I (WD21) 2.4 i 4WD 103KM 1987-1993
NISSAN TERRANO I (WD21) 2.7 TD 4WD 99KM 1989-1996
NISSAN TERRANO I (WD21) 3.0 i 4WD 148KM 1990-1995
NISSAN TERRANO II (R20) 2.4 4WD 116KM 1996-2002
NISSAN TERRANO II (R20) 2.4 4WD 118KM 1996-2007
NISSAN TERRANO II (R20) 2.4 i 12V 4WD 124KM 1993-1997
NISSAN TERRANO II (R20) 2.7 TD 4WD 101KM 1993-2002
NISSAN TERRANO II (R20) 2.7 TDi 4WD 125KM 1996-2007
NISSAN TERRANO II (R20) 3.0 Di 4WD 154KM 2002-2007
NISSAN TERRANO II Van (R20) 2.7 TDi 4WD 125KM 1998-2007
NISSAN TERRANO II Van (R20) 3.0 Di 4WD 154KM 2003-2007
NISSAN URVAN Autobus (E23) 2.0 (E23B) 87KM 1982-1988
NISSAN URVAN Autobus (E24) 2.4 i 101KM 1989-1993
NISSAN URVAN Autobus (E24) 2.5 D 80KM 1989-1996
NISSAN URVAN Skrzynia (E23) 2.3 D 68KM 1982-1987
NISSAN URVAN Skrzynia (E24) 2.0 87KM 1987-1997
NISSAN URVAN Skrzynia (E24) 2.3 D 69KM 1988-1997
NISSAN URVAN Skrzynia (E24) 2.5 D 80KM 1988-1997
FORD MAVERICK (UDS, UNS) 2.4 i (UDS) 116KM 1996-1998
FORD MAVERICK (UDS, UNS) 2.4 i 118KM 1996-1998
FORD MAVERICK (UDS, UNS) 2.4 i 124KM 1993-1996
FORD MAVERICK (UDS, UNS) 2.7 TD 100KM 1993-1996
FORD MAVERICK (UDS, UNS) 2.7 TD 125KM 1996-1998